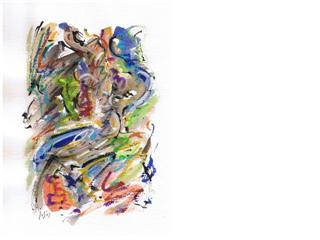 [ Location: 1119 v st nw washington dc 20009 / 202-299-9071 202-420-8920 info@ericsdogs.com hours:sat sun from 1-7 and by appointment. ]

me art gallery presents : HERMAN VAN STAALDUINEN in his first show in the United States ;with our partner gallery GALERIE NIEUW SCHOTEN

reception: Friday May 9th from 6-8 - show runs through July 7th

HERMAN VAN STAALDUINEN: is work is best described by...
Written by Petra Veeger
Translation: Chris Andree

"Looking back at 20th century art it seems specially expressionism and abstraction successfully made the transition to our times. Herman van Staalduinens work fits perfectly in this style vocabulary. Visual echoes of Bonnards pseudo-paradisiacal magic-gardens. Smoldering remnants of Francis Bacons figuration. The "distorted spaces" as painted by the ripe Kokoschka. One could detect all as Van Staalduinens sources. Still he is no quoting artist, using his own work as a continuous influence of inspiration. With his abstract yet lyrical expressionism Van Staalduinen creeps towards the edges of recognition which adds to the fascination of his work. Warm colors feel like the sweltering atmosphere before a liberating thunder and lightning. Over ripeness approaching decay? As his brushes hit the canvas Van Staalduinen paints to survive, it seems. Color, shape, composition make curious about the contents of his work. Clear but cryptically titles reveal nothing more than Van Staalduinens introspections.
Still they prove to be universal human emotions. With movement, color, expression Van Staalduinen shows his lust for life and painting in particular. Chris Reinewald, chief editor Museumvisie (dec. 2007) Herman van Staalduinen (1949) graduated from Den Helder teacher training college in 1973, having specialized in drawing. In 1979 he was admitted to the Rietveldacademy, where he graduated in painting and free graphic arts in 1984. Since 1985 his work has been exhibited at Gooijer Fine Art/Galerie in Amsterdam and since 1999 at Galerie Nieuw Schoten, art consultancy in Haarlem.
Van Staalduinen considers impotence to be the main motive for his work, which focuses on the individual. Those feelings of impotence relate to the need for communication, to the fascination with the physical and esthetical power of expression, which varies for everyone, to the interest in the way in which every human being has to fight an inner struggle.
From his earliest work Van Staalduinen has displayed this existential need for communication. In a clearly recognizable way he shows the individual's struggle with the barriers impeding contact with himself and his environment. The constrained character of that struggle is emphasized by a distinct composition, oblique and seemingly unfinished strokes.

The agitation, has being initially subdued, makes its presence more emphatically felt in later work. Here the individual violently breaks his mould to literally become part of his environment. The result is a turbulence of lines and colours, in which sober and sombre tones are out of the question.
Explosiveness and an urge for expansion seem to have become lasting characteristics of Van Staalduinen's work. His latest paintings are best described as colour experiments, in which he expressionistically shapes his original themes. Within those themes, however, the accent has shifted from the individual to the struggle itself, which can result in advanced abstraction."
Sunday, January 28, 3 pm—5 pm
Cape Cod Community College
Science Building, Lecture Hall A, Parking Lot 7
2240 Iyannough Road, West Barnstable
More Workshops to Be Scheduled
State Senator Jack Hart (D-S. Boston) and State Representative Eric Turkington (D-Falmouth), Co-Chairs of the Joint Committee on Tourism, Arts and Cultural Development, announced today the first of a series of informational workshops on the new Massachusetts Health Care Law and its affect on artists and non-profit cultural organizations.

The Joint Committee, in partnership with the new Arts Health Care Coalition, plans to hold a series of workshops across the state. Each workshop will present information about the new law from health care experts with representatives of the state. The workshop is tailored to answer the questions and specific needs of artists, self-employed people and non-profit cultural organizations and their employees.

"The Massachusetts Health Care Reform law is landmark legislation that is serving as a national model," said Senator Hart, "and we have organized these workshops because our committee wants to make sure that every member of the cultural community understands both the benefits and responsibilities of the new law."

"Our goal is to meet with people in their communities so that everyone understands the new law," said Rep. Turkington, "We recommend this workshop for individual artists, self-employed people, and representatives of non-profit cultural organizations."

Last year, the Joint Committee held hearings across the state to assess the state of arts and culture and tourism in different regions.

"As we did last year, we hope to learn how this law affects people, as well as create an opportunity to educate people," added Rep. Turkington. Rep. Turkington will be joined by representatives of the Arts Health Care Coalition.

The Arts Health Care Coalition was formed by the Massachusetts Cultural Council; Massachusetts Advocates for the Arts, Sciences, and Humanities (MAASH); the Artist Foundation and ArtistLink to address health care issues in the cultural community.

The first workshop will be held on Sunday, January 28 from 3 pm to 5 pm at the Cape Cod Community College at 2240 Iyannough Road, Science Building, Lecture Hall A, Parking Lot 7 in West Barnstable. The workshop is free and open to the public.
More workshops will be scheduled and we will notify you by e-mail as soon as possible.
Thank you,
Dan Hunter
on behalf of the Arts Health Care Coalition:
Massachusetts Cultural Council
Massachusetts Advocates for the Arts, Sciences, & Humanities (MAASH)
Artists Foundation
ArtistLink