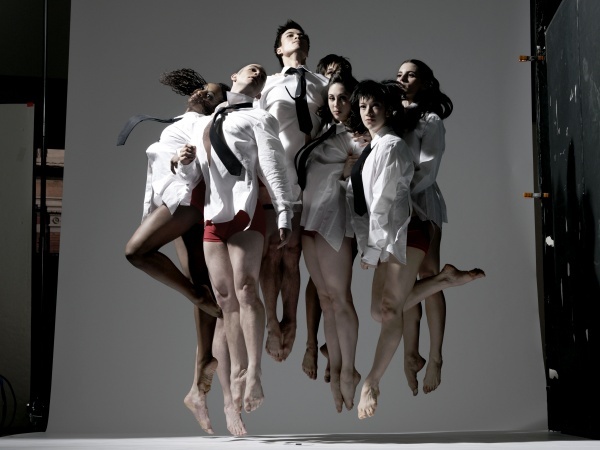 American Dance Maverick Stephen Petronio's Company
The Walker Art Center Presents American Dance Maverick Stephen Petronio's Company with Special Guests The Minnesota Boychoir Performing a Score by Rufus Wainwright
Evening Includes New Works BLOOM, Bud Suite, The Rite Part
"Sensuality, risk, and uneasiness unite at levels of speed and density that render the performers heroes in a ricocheting world." —Village Voice
Fashion, pop, visual art, and movement collide in Stephen Petronio's dances. Widely considered one of America's finest, most forward-thinking choreographers, he infuses "relentless breakneck speed with clarity more akin to ballet . . . to create results that are pure extravagance" (Associated Press). For 20 years, Petronio has worked with some of the most talented and provocative visual artists, musicians, and designers of the time. In BLOOM he commissioned a score from poetic pop singer-songwriter Rufus Wainwright, to be sung by the 40-member Minnesota Boychoir, exploring the creative freedom of youth and the bittersweet poignancy of transformation. Bud Suite, set to four original Wainwright songs, and The Rite Part, an excerpt from Petronio's striking 1992 piece, complete an evening-length program on Thursday–Saturday, March 1–3, at 8 pm in the William and Nadine McGuire Theater.
Widely acclaimed by audiences and critics alike, Stephen Petronio Company has performed its powerfully modern landscapes for the senses in 25 countries throughout the world as well as presenting over 30 New York City engagements. Petronio has built a body of work with some of the most talented and provocative artists in the world, including composers Laurie Anderson, Michael Nyman, James Lavelle, Wire, Diamanda Galás, Sheila Chandra, David Linton, Andy Teirstein, Peter Gordon, and Lenny Pickett; visual artists Anish Kapoor, Cindy Sherman, Donald Baechler, Stephen Hannock, Arnaldo Ferrara, Tal Yarden; fashion designers Leigh Bowery, Manolo, Yonson Pak, Paul Compitus, Tara Subkoff /Imitation of Christ, and Tanya Sarne/Ghost; and Resident Lighting Designer Ken Tabachnick.
Founded in 1984, Stephen Petronio Company has been commissioned by Dance Umbrella Festival/London, Hebbel Theater/Berlin, Internationales TanzFestival NRW/Germany, Theater Scene National de Sceaux/France, Festival d'Automne a Paris, CNDC Angers/France, Het Muziektheater/Amsterdam, The Holland Festival, Festival International Montpellier-Danse, Danceworks UK Ltd, International Cannes Danse Festival, and in the United States by San Francisco Performances, The Joyce Theater, UCSB Arts & Lectures, Spirit Square Center for the Arts, Wexner Center for the Arts, Walker Art Center, White Bird/Portland, Oregon, and Carver Community Cultural Center.
The Company premiered Bud Suite and BLOOM, with the Young People's Chorus of New York City, last year at The Joyce Theater in a program that included an excerpt from Full Half Wrong (1992) titled The Rite Part set to Stravinsky's "Rite of Spring."
The Company's largest U.S. tour to date includes return engagements with long-term partners San Francisco Performances, UCLA Live!, New Art New Mexico, and UC Santa Barbara as well as returns to Alverno College (Milwaukee), UMASS (Amherst), World Music/Crash Arts (Boston), the Walker, and UC Santa Cruz. Premiere engagements will be presented at University Musical Society in Ann Arbor, John Michael Kohler Center in Sheboygan, The Egg in Albany, and to Seattle with a new presenter, Seattle Theatre Group. Throughout the year, Petronio and several past and present Company member will be creating new works for Ballet National de Marseille, London Contemporary Dance School, Ballet Lorraine, Washington Ballet, and Norrdans, among others.
Stephen Petronio
Stephen Petronio (Artistic Director/Choreographer), was born in Newark, New Jersey, and received a B.A. from Hampshire College in Amherst, Massachusetts, where he began dancing in 1974. Initially influenced by the works of Steve Paxton and Rudolf Nureyev, Petronio went on to become the first male dancer of the Trisha Brown Company, where he danced from 1979 to 1986. He founded Stephen Petronio Company in 1984. He has received international acclaim for his ground-breaking choreography and the company has toured extensively across the United States and in Canada, Mexico, Europe, South America, Australia, Korea, and Russia.
Petronio has been awarded choreography fellowships from the National Endowment for the Arts from 1985–1988, and company grants from the NEA and the New York State Council on the Arts since 1988. He is also the recipient of numerous awards including a John Simon Guggenheim Fellowship, a New York Foundation for the Arts award, the first American Choreographer Award in 1987, and a New York Dance and Performance Award (Bessie) in 1986. He has been commissioned to create new works for companies including William Forsythe's Frankfurt Ballet (1987), Sydney Dance Company (2003), Tulsa Opera (1990), Deutsche Oper Berlin (1992), Lyon Opera Ballet (1994), the Maggio Danza Florence (1996), Rotterdam Dansgroep (1988), Ricochet Dance Company of London (1998, 2001, 2005), Axis Dance Company (2002), A-Quo Danza Contemporanea in Mexico (2002), CanDoCo in London (2003), and Norrdans in Sweden (2005).
His Company works have been set on Scottish Ballet (2003), Charleroi Danses (1993), Norrdans (2004), London Contemporary Dance Company (2001), Chamber Dance Company (2001), X Factor Dance Company (2005), and Tasdance (1994, 1983), among others.
In the coming year, Petronio will create two new works for Norrdans and a new work for the Washington Ballet as well as setting Company repertory for Ballet National de Marseille, Ballet Lorraine, and two works for London Contemporary Dance Company.
The Minnesota Boychoir
Now in its 45th year, the Minnesota Boychoir has touched the lives of more than 1,000 boys and is dedicated to musical excellence, discipline, teamwork, and leadership preparation. The Boychoir has performed with the Minnesota Orchestra, the Saint Paul Chamber Orchestra, the Minnesota Opera, VocalEssense, the Baltimore Symphony, Prague Philharmonic, and at numerous professional, musical, and sports events. Mark S. Johnson, Music Director, will be conducting the Boychoir for the performances. For more info, go to
www.boychoir.org
. Rachel Joyce, 612.375.7635
rachel.joyce@walkerart.org
Please get in touch to offer comments and join our mailing list for sales and specials!

You can e-mail us at:
Dance 4 America OnLine Publication, D.B.A. * 103 West Seneca, Suite 206A * Ithaca * NY * USA * 14850