Ballet Dance :
For more information or images suitable for publication, contact the Communications Manager at 614.586.8661 or

email

.
Ballroom Dance :
OHIO STAR BALL CHAMPIONSHIPS

The Ohio Star Ball – A Festival of DanceSport
The Ohio Star Ball began as a one day showcase 30 years ago, under the direction of Sam Sodano. With equal amounts of creativity, courage and perseverance, Sam has developed this Championship into the largest Pro/Am competition, not only in North America, but in the world today. When you arrive in Columbus, look up and down the main street. Flags posted by the Columbus Convention Bureau announce this Championship as a major city convention.
Belly Dance :

Folk Dance / Folkdancing
Folkloric Dance:
Hip Hop Dance: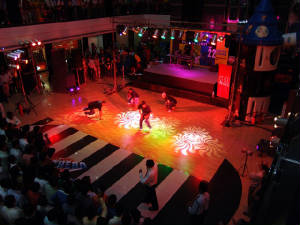 Latin Dance :
My partner and I teach salsa classes on
Tuesdays from 7:00pm to 8:00pm in Studio #3 below the Ohio Theatre (at 39 E State St). Our Salsa Essentials class covers the body movement, footwork, and partner patterns that make up the foundation of salsa dancing in the On2 New York style.
Lyrical Dance :
Modern Dance:
Modern Jazz Dance :
Salsa Dance :
Swing and Lindy Hop Dance :
Tap Dance:

Send your press releases via..............