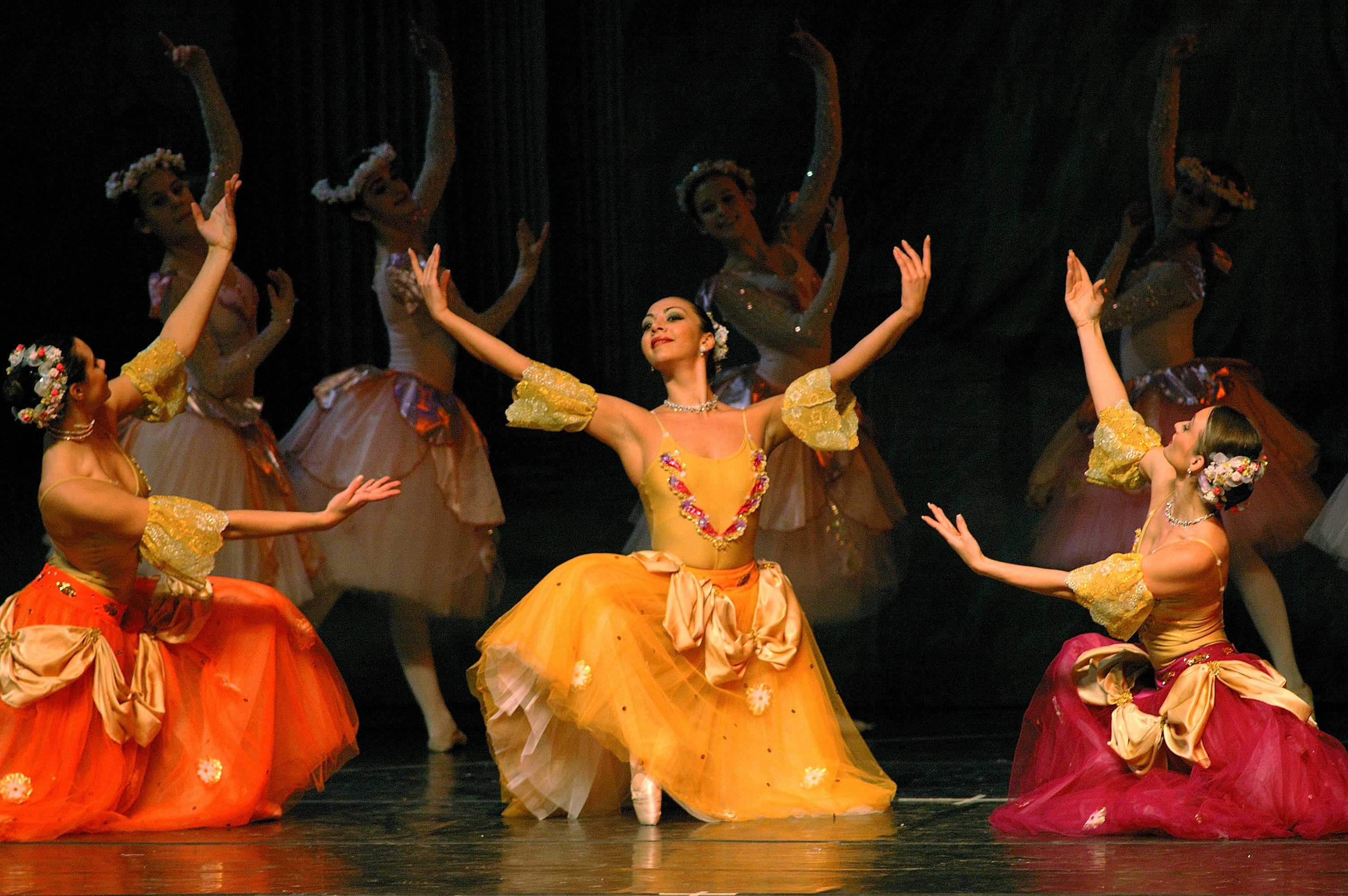 Photo by Wayne E. Yang
"A Winter Fairy Tale" departs from the traditional Nutcracker Ballet by portraying the beautiful international diversity of Brooklyn with dances representing the countries of Spain, Nigeria, China, India, France and Russia.The ballet culminates in the Land of Freedom rather than the traditional Land of Sweets. Leading roles will be performed by Alex Anatska, Nina Medvinskaya, Simon Shargo, Mikhail Nesterenko, Natia Rtveliashvili, Daryna Paliy, Oleg Serban, Anna Mikhailenko, Lika Ageeva, Mama Dou Dahoue (African Dance), Reena Parsram (Eastern/Indian Dance) with supporting roles danced by advanced students of the BBT/ School of Russian Ballet and members of the Junior Company. Many of the costumes were made in the Kiev State Opera and Ballet Theater (Ukraine) by Victor Matsenin. Other costume design is by Valeriy Tsymbal, Ludmila Ctecenko, Yana Bowden, Lidiya Dubovikova, Larisa Kravchenko and Lester's Co. Scenic Design is by Charles H. Stewart & Co. & Edouard Kouchnarev.

The Brighton Ballet Theater is the premier Russian ballet and folk dance Center in New York City. Founded in 1987 in order to preserve and share the rich historical traditions of Russian dance in New York, BBT Company has also become the only presenter of new choreography by emerging Russian choreographers in the United States.

Company dancers are all graduates and former soloists from the best dance schools and theaters of the former Soviet Union, who seek to share their impeccable training and love for dance on the stages of New York under the artistic direction of Edouard Kouchnarev.

The Brighton Ballet Theater has performed on such acclaimed stages such as Carnegie Hall, Lincoln Center Avery Fisher Hall, Tribeca Theater, Madison Square Garden and many more throughout the tri-state area. As the sole representative of Russian dance in New York, BBT is often invited to perform at special events such as the Opening of the Faberge Collection at the Metropolitan Museum of Art, the opening of "Unseen Treasures in Russia" at the New Jersey State Museum, a winter presentation for D'Agostino's stores at Jacob Javits Center, a special performance honoring the
opening (IPO) of a Russian telecommunications stock (VIP) going public on the floor of the New York Stock Exchange, an annual performance of "From Russia With Love" at the New York Aquarium, and "An Evening with Vivaldi & Verdi" at the Merkin Concert Hall. A special part of all BBT performances is the original costume design that adorns every dance. All costumes are designed and hand-made by Russian costume designers in New York, who occasionally also collaborate with Russian theaters for materials and production of costumes.

In addition to Russian ballet and folk dance BBT is also proud of its eclectic performance history, which includes a variety of International folk dances, as well as entertaining jazz and theatrical pieces performed for various special occasions.

A Winter Fairy Tale: The Nutcracker
Date: December 16, 2006; Time: Two shows: 2:00 p.m. and 5:00 p.m.
Location: Leon M. Goldstein Performing Arts Center
2001 Oriental Blvd. Brooklyn, NY 11235
Recommended for ages 4 and up; Admission: $10

Images courtesy of Brighton Ballet Theater Co., Inc.
Photo by Wayne E. Yang
http://img201.imageshack.us/img201/1681/wayneeyangwv0.jpg
Photo by Nancy Opitz
http://img201.imageshack.us/img201/3779/nancyopitzjh3.jpg
Photo by Arkadiy Yagudayev http://img201.imageshack.us/img201/8737/arkadiyyagudayevxg5.jpg

Buy tickets online: http://www.theatermania.com/content/show.cfm/show/128165

Description: This charming performance, created especially for children, is a delightful introduction to ballet and the timeless tale of The Nutcracker. Resplendent in breathtaking costumes, dancers from Brighton Ballet Theatre's professional and junior companies recreate that magical night when a young orphan girl named Marie is astonished to see the Nutcracker and other toys come to life, doing battle and dancing in her living room.

About The BBT/School of Russian Ballet
The BBT/School of Russian Ballet is a non-profit organization that has provided the highest quality dance education for girls and boys ages 2-19 as well as adults for twenty years. With more that 500 students attending each year, BBT students learn the art of dance from renowned dancers, teachers an choreographers who have graduated from the best Russian Ballet Schools and Colleges and performed at the most prestigious ballet companies of Russia. BBT's well-rounded curriculum includes ballet using the Vaganova (Russian) Method as a base, character dance, modern dance, Latin & Ballroom dance, international folk dance, jazz dance, and hip-hop. Unlike other dance schools in NYC, BBT provides all children with a unique opportunity to perform full-scale ballets, with costumes and scenery.

This program is supported in part by Public Funds from The New York City Department of Cultural Affairs.

Press contact: Vladimir Lepisko,
vladimir.bbt@gmail.com
Phone: 718-769-9161;
http://www.brightonballet.org