New York, NY January 20, 2010 -- City Scenes Media Group and entertainment enthusiast Bre Sylvia announce the launch of the print version of City Scenes Magazine, a general interest publication featuring the latest in entertainment, fashion, lifestyle, and politics.

Set for release on January 25, the inaugural issue features a revealing interview with its cover model, R&B chanteuse Olivia. Currently signed to Universal Records with plans to drop a new album this year, the former first lady of G-Unit Records was surprisingly candid with the magazine's Editor in Chief – dishing on everything from Chris Lighty to redoing her entire album after leaving G-Unit, and taking the time during their sit-down to clarify a few things about her departure from the 50 Cent helmed label:

"Rumors hit the radios saying that I was dropped from the label, when in fact I was the one who actually asked to be let go."

Taking it a step further, the Brooklyn native explained why a long term relationship with G-Unit was never the plan:

"I already knew that I was not going to stay with them for a long time anyway because them with me would become ludicrous after a while…."

City Scene Magazine's premiere issue also features just as forthcoming interviews with Maino and Mack Maine, president of Lil Wayne's Young Money Entertainment.

City Scenes Magazine will be published four times a year with subsequent issues in April, July, and October. CityScenesMag.com, originally launched in 2009 under the name SceneintheCityOnline.com, will function as the on line version of the print publication with daily updates.

City Scenes Magazine…what's the scene in your city?

###

For press and media inquiries, contact:

Bre Sylvia – Editor in Chief bresylvia@cityscenesmag.com
Attica Lundy – Managing Editor atticalundy@cityscenesmag.com
Memory Martin – Features Editor (ATL) memorym@cityscenesmag.com
Mara "The Hip-Hop Socialite" – Features Editor (NYC) maram@cityscenesmag.com

Baltimore, MD - Monsters of HipHop, the world's leading hip hop dance convention, today announced that DanceJam, the social network for all things dance, will be the title sponsor for the 2008-2009 Monsters of HipHop Tour.

DanceJam is quickly becoming the world's favorite venue to watch and rate dance videos. With its innovative social community features, the site offers dancers and enthusiasts the ability to create unique profiles, upload dance videos and rate performances. Videos of individual performances and dance crews can be easily uploaded from online destinations such as YouTube.com. DanceJam catalogues dances and popular street moves, and includes video instruction for a variety of dance genres.

"Our new sponsorship by DanceJam is a win-win for both parties," said Andy Funk, the founder of Monsters of HipHop. "DanceJam saw Monsters as number one in HipHop dance events, and we see DanceJam as the front runner in online dance field. Together we can expand our reach and further build our brands as leaders in the world of dance."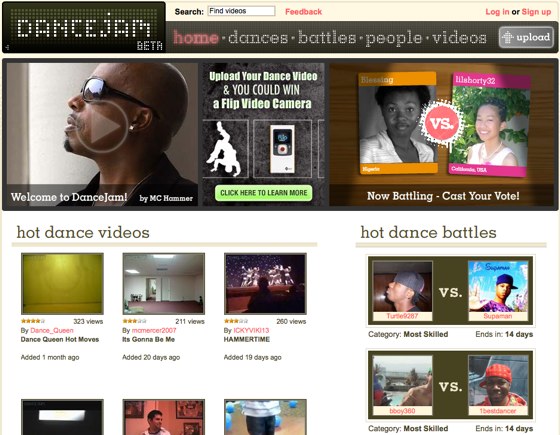 As the title sponsor of Monsters of HipHop conventions, with their 13 city U.S. tour through cities such as Los Angeles, Chicago, New York, Denver plus new international destinations Mexico, Japan & Europe, DanceJam will showcase exclusive dance footage, competitions and contests for convention participants.
As leading innovators of hip hop dance instruction, Monsters of HipHop participants will benefit directly from DanceJam with new, online tools in development. Monsters' performance groups are able to use the community features of DanceJam for video critiques and comments to improve their performance and showmanship.

Monsters faculty are notable dance choreographers who work with Justin Timberlake, Britney Spears, Pink, Jay-Z, Beyonce, Janet Jackson, Mariah Carey, Jennifer Lopez, The Pussycat Dolls, and many more. They have been the creative force behind blockbuster dance films such as Stomp The Yard, Hairspray and Step Up 2.
Monsters of HipHop freestyle battles will be taken online to a new arena. This new channel will increase overall participation and visibility for tomorrow's dance superstars.
According to Geoffrey Arone, the CEO of DanceJam, "Our relationship with Monsters of HipHop allows us to engage and work with the top dance talent in the world today. Monsters' access to casting agents, talent scouts, and TV show executives allows our community to literally dance their way to fame."
About Monsters of HipHop
Founded by Andy Funk, Becky Funk and Angie Servant in 2003, Monsters of HipHop is the conceptual blend of competitive dance, business and marketing. While Monsters has grown tremendously, the company strives to maintain the family environment on which it was built with its mission to bring hip hop dancers together with the industry's top dance professionals in a fun and challenging environment that fosters self-fulfillment and career development.
About DanceJam
DanceJam was founded by M.C. Hammer along with visionary Internet entrepreneurs Geoffrey Arone and Anthony Young from Flock.com. The current popularity of dance globally is evident by the success of dance television shows such as 'Dancing with the Stars,' 'So You Think You Can Dance, 'America's Best Dance Crew' and online videos such as 'The Evolution of Dance'. DanceJam's founding trio saw an opportunity to create a niche video site focused entirely on dance and dance culture. From this, DanceJam was born, created to cater exclusively to the growing community of dancers & their fans.
Ever since James Brown electric'fied the Jazz, Blues, and Rock World with his hit " The Sex Machine. " Dance definately took a very, very interesting curves, all of it body-or bodies.
Moreover, and like his " Mash Potatos " 45 single Hit, where he also developed a new dance to it, he did the samething for " The Sex Machine. "

1970 was the origin of Hip Hop, and the city was MoTown itself - Detroit. Later on came Chicago, Washington DC, and New York City.
This is the foundation of Hip Hop, and its success in maintaining its popularity is attributed to two distinct elements.
One: Every six to seven years, a cycle is closed, and a new one starts-so lets say six years = one cycle. A cycle is a process in which a 12 to 13 year, starting in 1970 gets the jazz and starts to explore with the hit elements in each new release. Then around 20 to 22 year old, the sensation drifts ( developemental pyschologist agrees about this age stage )-as responsiabilties starts to take hold. At that time a new person 13 to 14 gets in on the musical action and another cycle begins.
That means that Hip Hop has gone through nearly six cycles, a new one is just starting-projected for summer of 2006.
Two: It was never over professionalized, nor was it ever highly exploited. The major element is due to its high energy, and once most reach a certain age ( which the older you get the more potential exploitive you get to attract the money ), interest and the ability to perform slackens.
What had happen since its originator, James Brown, it in its energy, the musical forms have a direct relationship to youth physicalities and innate drives for free expressions. You just can not get down on any of it. Not unless you want to be labled " the fool ."
RMC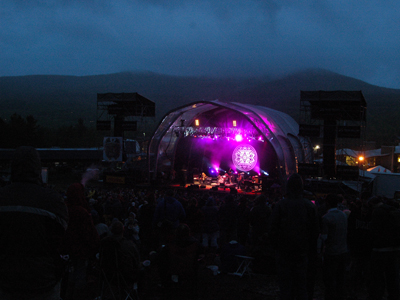 Capital Hip Hop Soul Fest Hits Washington DC July 26, 2008
The Capital Hip Hop Soul Fest will take place on Saturday, July 26, 2008 in Washington DC. The festival will take place in Marvin Gaye Park which is named after hometown legend Marvin Gaye.
Source: Liberated Muse Productions
Apr 23, 2008 12:23:40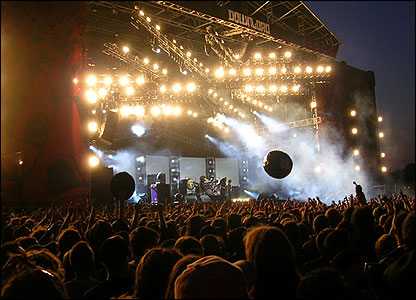 Liberated Muse Productions, a Washington DC community-based arts event-planning group will be hosting the Capital Hip Hop Soul Fest. The event is planned to take place on Saturday, July 26, 2008 in Marvin Gaye Park from 11 am-8pm. Already, the event is generating an enormous amount of buzz.
"We have gotten a fantastic response," says one of the festival's organizers, Khadijah Ali-Coleman. "We've had to extend the festival by two hours because it will be jam-packed with activities and performances."


In efforts to solicit acts for the free outdoors event, Ali-Coleman posted ads on popular sites Craiglist, the Washington City Paper, MySpace, and Facebok. "Within minutes, literally, we were flooded with folks interested in participating. This is a big deal to many people and its exciting how many people want to be a part of it."

The festival will take place in Marvin Gaye Park which is named after hometown legend Marvin Gaye. The park is located in the northeast part of Washington DC. The park is formerly known as the Watts-Branch Park. The organizers of the festival hope that the event will allow local metropolitan artists to connect with their audiences while promoting enjoyable events targeting those in a 25-40 year-old age group who may be young professionals who are single or married with families.

"This festival is targeting a demographic who enjoys good music that you may not necessarily hear on mainstream radio," says Festival Director, Maceo Thomas.

Artists scheduled to appear include hip-hop artists Mello D & the Rados, Substantial, Jamma Wun and Christylez while soul artists Afi Soul, Dee Stone, Rogiers, Mycah Chevalier, and Jua Howard make appearances as well. The Uninterrupted Band and Lucky Dub Band will perform earlier in the day. More acts are scheduled to perform.

To learn more about opportunities to vend at this event or co-sponsor this event, contact Maceo Thomas at 202.285.4529 for information on vending and sponsorship packages. Visit www.liberatedmuse.com or email LiberatedMuseProductions@gmail.com for additional details until the Capital Hip Hop Soul Fest website goes live in mid-May 2008.

# # #

Liberated Muse is an arts-based planning group which promotes positive events for the greater Washington DC area

asphalt phenoms of new york city, the lost years

Street basketball has risen and climbed to heights that no one could have ever envisioned. As an ex-streetball player from New York City, who's played during the 80's to the present, Dorian "Black Stallion" Graham has seen the game evolve into the corporate magnet that it has become today. But, there is one question that he's always asked, were there any streetball players after Joe "The Destroyer" Hammond and before Rafer "Skip To My Lou" Alston? And if so, who are they? Asphalt Phenoms of New York City, The Lost Years… answers these and many other questions.

With never seen before streetball footage and interviews from the likes of two time NBA Champion and co-host of The NBA on TNT, Kenny "The Jet" Smith to playground legends "The Terminator" and "Sudden Sam", to the star of UPN's comedy television sitcom "All of Us" Duane "Shake" Martin, Asphalt Phenoms introduces to the audience the culture of street basketball and what it was really about during the hot summers in New York City from the early 80's to the late 90's.

Asphalt Phenoms is the first project produced by True Loyalty Productions, LLC. It was featured on the MSG Network show, SummerBall, hosted by Bobbito Garcia. The Emmy Award winning Executive Producer, Director, Producer, Writer and Editor Dorian Graham, gave the world a sneak peak at the documentary that gives you the true grit about streetball.

Now that the buzz is out, it's time to feed the masses with knowledge that only a streetball player that lived it can give you.

Asphalt Phenoms of New York City, The Lost Years…available only over the internet for $15.

Lil' Dude's Video Release Party-Nov. 10

Twelve-year-old hip hop artist Micah "Lil' Dude" Brown will be showcasing his video, "You Hear Me Knocking" and 'I forgive You Dad" as well as performing one of his latest cuts with DJ Judge Mental spinning behind him on Saturday, November 10.

This little package commands the stage and his audience in a big way. Don't sleep on this private event because the industry is about to make way for Lil Dude, "Hip Hop's Next Generation."

What: Lil' Dude's Video Release Party (Private Event)

When: November 10, 2007

Where: 42 Forsyth Street (Downtown between Marietta and Walton Streets)

Time: 6 - 8 p.m.

RSVP: 404-734-3963 or ec@tambriapeeples.com

About Lil' Dude:

"Good things come in small packages…" - and even greater things com in a Lil' Dude. Born October 1, 1995 in Detroit, Mich., this little guy lives, breathes and exudes the essence of true hip hop. Beginning his love affair with hip hop at the mere age of four, by six years old, Lil' Dude was leaving audiences amazed with his high energy performances at local venues, open mic nights, special school programs, non-profit events, music festivals and even weddings through out his home town of Milwaukee, Wis.

With a mission to maximize his talents and take advantage of bigger and better opportunities, at the age of nine, Lil' Dude and his family moved to Atlanta, Ga. Working as a hip hop and spoken word artist while pursuing his acting and modeling career, Lil' Dude quickly became acquainted with industry professionals as he landed a major voice over commercial with Hilshire Farms which airs on urban radio across America. He also made the cover of Scholastic Magazine and appeared in Cartoon Network's "Cartoon Fridays."

Now at 12, he's already performed for audiences of 18,000 including Summerfest, the world's largest music festival alongside Grammy-winning, Arrested Development. He also performed at The Russell Simmons Sponsored Pioneers Block Party for The Kids of the South Bronx Going Back To School held at the legendary MOORE HOUSES PARK. He's reaching even higher as he prepares for his next show opening for the legend of all legends, Stevie Wonder, with a group of Atlanta's premier teen talents.

Hip Hop Producer Black Panther Releases Anticipated Sophomore Album "My Eternal Winter" on March 13th With Distribution From Koch


Press release from: HIp Hop Producer Black Panther
Published date: 01-05-2007 12:35 PM - CET - Arts & Culture
PR agency: RAin Dazed Entertainment

(openPR) - January 5, 2007 - New York, NY---Brooklyn's own Black Panther made his mark as a hip hop producer with his 2003 debut release "The Darkest Night Ever" on the label Third Earth. Blessed with lyrics by some of the best underground emcees including Jean Grae, stic man of dead prez, Pumpkinhead and C-rayz Walz this concept album received acclaimed reviews from the hip hop world with allhiphop.com stating, "Soon you'll be hearing his name in a lot of those 'favorite producer' arguments".

2007 finds Black Panther ready to solidify his mark with his sophomore release "My Eternal Winter" March 13th on his own label, Manekineko Pro. with distribution from HBD/Koch. Once again Panther enlists some of the best underground emcees and always looking to push himself to the next level, takes it a step further to incorporate r&b, rock and pop for this concept album about individual eternal struggles.

The lead single "All Falls Down" features Bronx emcee Oktober Zero and songstress Maya Azucena. Other stand out tracks include "Dreams" with a medley of emcees including M-1 of dead prez, "And The Day Keeps Coming" featuring J Treds, "Nothing Personal" featuring M F Grimm and "The Half" which couples Maya Azucena's soulful voice over Panther's amazing production.

Elemental Magazine stated that Black Panther is, "a hungry new talent ready to prove himself" and he does that and more with his latest musical masterpiece, "My Eternal Winter"..

Additional Press Releases

Black Panther Bio

Black Panther has produced for some of the most talented and popular underground hip hop stars including Jean Grae, Dead Prez, C-Ray Walz, Oktober Zero and others.

Panther was born Michael Hill in Fort Green, Brooklyn surrounded by the undeniable energy of artists such as Spike Lee, Chris Rock and Rakim

As a youth, he embraced many different forms of music. You could hear the variety coming from his portable turn table in the basement from the hip hop sounds of UTFO and Roxanne Shante to the rock sounds of Rod Stewart and Rick Springfield. The day the his brother brought home Run DMC's record "Sucker MC's" Black Panther's life changed forever.

In the late, 80's and early 90's, influenced by Ralph McDaniel's Video Music Box, Panther found his way on to the hiphop scene as a dancer, appearing in a few music videos including "Good For We" by a London group called D-Influence, another from Mark Walberg's alter ego Marky Mark and the Funky Bunch and Wu-Tang affiliate, Shyheim's "On & On" video.

In time, Panther found himself back to his true passion behind the turntables making music and Michael Hill became DJ Black Panther. He began producing, promoting and selling underground mixtapes. He had released a total of 20 when in 1996 DJ Honda, a popular Japanese deejay purchased three hundred of his double mixtapes to sell in Japan. Panther invested the money from that sale in an MPC and launched his career as a producer.

In 2003, Black Panther released his debut album, "The Darkest Night Ever" on Third Earth Music Label. The album featured his amazing production with appearances by MURS, L.I.F.E. Long and Pumpkinhead and more. The album received positive feedback and publicity for Panther's production skills.

Between 2004 and 2006 he continued to produce standout songs including the underground hit "Digamello" which appeared on Oktober Zero's "Projeckt Building" album as well as "Camouflage" for C-Ray Walz and "American Hunger" for M F Grimm.

Black Panther is set to return with his much anticipated second album, "My Eternal Winter" which will be released on his own label Manekineko Pro with distribution from HBD/Koch. This album is sure to make Black Panther the producer to watch for in 2007.

RAin Dazed Entertainment

Publicity|Marketing|Promotions

www.raindazedent.com

rain(at) raindazedent(dot) com

Blogs:

Textual Information:

Latina Danza Hip Hop Text / Information .

The Cultural Magnet Destination City Campaign Website Network:

Covering the world with an important initiative; this is the real foundation for creating understandings ( note the plural ).

*********************

Salsa Wild of The Falcon and Doves Dance Troupe

. The audition moto of this dance troupe is Experience helpful, but note necessary, in as much as each member is auditioned for which assigned division - Amateur - Pro Amateur - Professional. A full cultural affirmative developmental program

North Eastern United States :
Please get in touch to offer comments and join our mailing or to join our MSN Group

Salsa Mambo and Son - Montuno

, Ithaca. Your will be listed and notified for dance classes and special events!

You can e-mail us at: