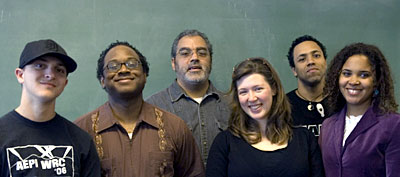 (L-r) Hip-Hop Studies Working Group members Michael Kahn, Michael Barnes, Rickey Vincent, Kendra Salois, Kofi-Charu Nat Turner, and Erinn Ransom. (Deborah Stalford/UC Berkeley photos)
Hip-hop scholars push for recognition
BERKELEY – In academic disciplines ranging from sociology to law, ethnomusicology to history, and education to African American studies, students at the University of California, Berkeley, are increasingly tapping into hip-hop culture for their research and field work.
It's a sign of the times. The three-decade-old, Bronx-born pop culture phenomenon, which encompasses rap, DJing, breakdancing and graffiti - influencing youth expression worldwide - is inspiring a growing body of scholarly discourse.
"Nothing else, currently, allows for you to talk about race, class, gender, sexuality, nationality, politics and the economy than hip-hop music and culture," said Michael Barnes, a doctoral student in sociology, whose Ph.D. dissertation is titled "Can't Fake the Realness: Race, Place and the Construction of Authenticity in Hip-Hop DJ Culture."
But when it comes to finding faculty members to review and assess their research, hip-hop scholars - undergraduate and graduate students alike - say they face a generational divide. Courses are taught at only a smattering of research universities around the nation. Moreover, few professors feel sufficiently qualified or in vogue to evaluate such hotly debated issues as rap and feminism, the copyright complexities of sampling and remixing, and the authenticity of Eminem. While the hip-hop generation officially began in 1964, most members of it were born in the 1970s, '80s and '90s.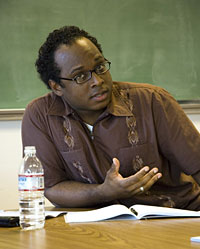 'Nothing else, currently, allows for you to talk about race, class, gender, sexuality, nationality,
To break down this barrier, Barnes has formed the Hip-Hop Studies Working Group through a grant from UC Berkeley's Townsend Center for the Humanities. The effort is designed to provide support for scholars of hip-hop, to harness the research taking place across campus and, some hope, to eventually establish a formal hip-hop studies program. At the group's monthly meetings in Barrows Hall, students discuss the origins of rap and hip-hop, how hip-hop intersects with race, class, gender and sexuality, and hip-hop's relationship to globalization and corporate America.
Texts recommended by Barnes include Jeff Chang's "Can't Stop, Won't Stop: A History of the Hip-Hop Generation," which tracks hip-hop back to the Bronx in the late 1970s, and the 1979 song "Rapper's Delight," one of the first hip-hop hit singles, by the American trio The Sugar Hill Gang.
As one might expect, the meetings spur provocative debate, including the question of how to get a reliable grounding in hip-hop history. "There needs to be at least one class that gives you a comprehensive history of hip-hop," said student and ASUC senator David Wasserman at the group's first meeting last September. He had been tracking the evolution of rap music videos for his "Black Freedom Struggles" history class.
"Who would teach the class?" asked Rickey Vincent, a doctoral student in ethnic studies who teaches a summer course at UC Berkeley called "From Be-Bop to Hip-Hop." The last faculty-taught hip-hop course, "Power Moves: Hip-hop Culture and Sociology," was taught in 2000 by then-lecturer Halifu Osumare, now an assistant professor of African American studies at UC Davis.
But mostly, hip-hop on campus has been a student-driven affair, with DeCal courses on such topics as the poetry of Tupac Shakur, and the group, Students for Hip-Hop, bringing performers to campus. Some faculty members, though, expect hip-hop studies to eventually win a more formal place in academia.
"Some disciplines are more favorably disposed toward it than others, where the incursion of popular cultural studies continues to be met with suspicion," said Brandi Wilkins Catanese, an assistant professor in the campus's Department of Theater, Dance, and Performance Studies and in African American Studies.
"But this is a bias that will certainly fade," she added. "There are scholars who have published books about hip-hop and can mentor another generation of scholars through the research process to help grow the field."
The new generation of hip-hop scholars includes Kofi-Charu Nat Turner, a doctoral candidate in education who ranked among Ebony magazine's "30 Leaders of the Future" in 2001 and has taught and studied in Ghana and Japan.
Turner believes hip-hop can promote literacy, if channeled in the right direction. For example, he is involved in a program called Digital Underground Storytelling for Youth (DUSTY), in which West Oakland students use digital technology to produce performance pieces. Not surprisingly, hip-hop permeates their work.
"Hip-hop is the primary language students bring with them to school," said Turner, a core member of the Hip-Hop Studies Working Group. "To ignore the language and the existence of hip-hop culture altogether is a failure to provide equal education under the law."
Another serious hip-hop scholar and member of the working group is Erinn Ransom, a doctoral student in African American studies. Her dissertation work at UC Berkeley is focused on connecting rap music to black radical thought, U.S. black social movements of the 1960s and 1970s, and youth consciousness.
'Hip-hop is the primary language students bring with them to school. To ignore the language and the existence of hip-hop culture altogether is a failure to provide equal education under the law.'
-Kofi-Charu Nat Turner, education Ph.D. candidate-
"Using hip-hop in the curriculum will help bridge the divide between the 'academic' and the 'real world,'" said Ransom, who is set to teach a hip-hop course at UC Berkeley this summer. "It can ground theories that may seem to pertain only to dead European thinkers with what is happening here today."
Hopefully, Ransom said, the formation of the Hip-Hop Studies Working Group and the buzz it creates will "signal to departments that there is a need to seek and hire scholars with expertise in the field."
Jabari Mahiri, an associate professor of education, agrees that hip-hop scholarship should be taken seriously at the university and appreciates pioneering efforts like those of the Hip-Hop Studies Working Group. He frequently reviews research that pertains to literacy and hip-hop culture, but readily admits that he doesn't listen to rap music, and that those immersed in the culture are more qualified to elevate hip-hop's place in academia.
"These young scholars are going to be the ones to bring legitimacy and understanding of hip-hop culture to the academic community," Mahiri said. "They have to be the ones to teach the older scholars the relevance of doing this kind of work, and create a new paradigm."
As founder of the group and as a Ph.D. student hitting the job market, Barnes doesn't have a lot of time to complete all his plans for hip-hop on campus. This semester, though, he hopes to bring some hip-hop scholars and artists to campus and lay the groundwork for a future conference. One guest scheduled to speak to the group this semester is H. Samy Alim, an assistant professor at UCLA, linguist and author of several books on hip-hop.
Whatever the fate of hip-hop at UC Berkeley, one thing is certain: The topics that traverse hip-hop are infinite. Just ask Larisa Mann, a Ph.D student in UC Berkeley's School of Law's Jurisprudence and Social Policy program. She is studying how copyright laws impact creativity in the production of music, including hip-hop.
"A study of information asymmetry in contract negotiations in the hip-hop music industry would make a great econ case study, or the politics of sampling in a sociology class," said Mann, who blogs and who spins at clubs, parties and benefits under the moniker DJ Ripley.
"In the same way academia examines other social forces, it should pay attention to something that is economically, politically and socially shaping how many view the world and engage with it," Mann said.