Philharmonic Blogs, Bloggers, and Forums:

The Philharmonic's 2008-2009 Season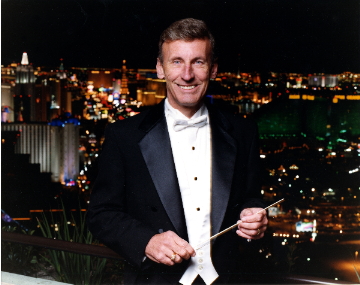 The 2008-2009 concert season marks the 10th anniversary of the Las Vegas Philharmonic.

The Philharmonic will offer, for the first time, two series of concerts: the traditional Masterworks series and the new Pops series. In addition to the beautiful classical works offered in the Masterworks series, the Pops series will feature jazz, Broadway, and contemporary pieces over three concerts.

The Masterworks season opens on September 6 with Maurice Ravel''s one-movement Boléro, his most famous musical composition. World-renowned pianist Misha Dichter will then perform Edvard Grieg''s Piano Concerto in A minor. The evening closes with the tempestuous Symphony No. 7 in D minor by Antonín Dvořák.

Masterworks II on November 15 brings the magic of Scheherazade. The program begins with the Hebrides Overture (also known as Fingal''s Cave) by Felix Mendelssohn followed by Henri Tomasi''s Concerto for Alto Saxophone. This piece will highlight Eugene Rousseau, one of the leading saxophone performers and pedagogues in the world. The popular and epic Scheherazade by Russian composer Nikolai Rimsky-Korsakoff will wrap up the evening.

On February 14, 2009, Masterworks III is a special all-Tchaikovsky concert, making it the perfect show to see on Valentine''s Day. In paying tribute to the works of Pyotr Ilyich Tchaikovsky, the Philharmonic will start the evening with the passionate Symphony No. 6 in B minor, Pathétique. The next pieces, Roccoco Variations and Nocturne for cello and orchestra, will feature internationally acclaimed musician Zuill Bailey on cello. Finally, Tchaikovsky''s Romeo and Juliet Overture-Fantasy closes the romantic evening.

The Masterworks IV concert on April 4, 2009 first begins with the Overture to Don Giovanni, Wolfgang Amadeus Mozart''s opera buffa or "comic opera." The program continues with Niccolò Paganini''s dramatic yet melodic Violin Concerto No. 1 and then concluded with the popular Symphony No. 5 in D minor by Dmitri Shostakovich. Young violin prodigy Shannon Lee is the featured guest artist.

The Masterworks grand finale on May 16, 2009 opens with Darius Milhaud''s La Création du Monde, but the feature of the evening is Ludwig van Beethoven''s majestic masterpiece, Symphony No. 9 in D minor—the "Ode to Joy." Collaborating with The Philharmonic are the Las Vegas Master Singers, directed by Jocelyn K. Jensen, Ph.D., and the Desert Chorale, directed by Nancy Helm. Soloists for the evening will be soprano Veera Asher, mezzo-soprano Juline Barol-Gilmore, tenor Mark Thomsen, and baritone Paul Rowe.

The inaugural Pops series begins on October 11, 2008 paying tribute to American jazz trumpeter and singer Louis Armstrong. Trumpet virtuoso and showman Byron Stripling will bring the influential jazz musician''s sound to life.

On December 13, 2008, Pops II presents "A Christmas Celebration!" with classic holiday songs. There will be a matinee show at 2 p.m. for the whole family as well as the evening show at 8 p.m.

Pops III on March 21, 2009 features a night on Broadway with Brent Barrett, star of "Phantom - the Las Vegas Spectacular." The Philharmonic and Barrett will perform a program called "You and the Night and the Music."

At-a-Glance:

Masterworks I
September 6, 2008
Maurice Ravel, Boléro
Edvard Grieg, Piano Concerto in A minor, Misha Dichter.
Antonín Dvořák,.Symphony No. 7

Masterworks II
November 15, 2008
Felix Mendelssohn, Hebrides Overture "Fingal's Cave"
Henri Tomasi, Concerto for Alto Saxophone, Eugene Rousseau, alto
Nikolai Rimsky-Korsakoff, Scheherazade

Masterworks III
February 14, 2009
All-Tchaikovsky concert
Symphony No. 6 in B minor, Pathétique
Roccoco Variations
Nocturne for cello and orchestra, Zuill Bailey, cello
Romeo and Juliet Overture-Fantasy

Masterworks IV
April 4, 2009
Wolfgang Amadeus Mozart, Overture to Don Giovanni
Niccolò Paganini, Violin Concerto No. 1, Shannon Lee, violin
Dmitri Shostakovich, Symphony No. 5 in D minor

Masterworks V
May 16, 2009
Darius Milhaud, La Création du Monde
Ludwig van Beethoven, Symphony No. 9 in D minor

Pops I
October 11, 2008
Tribute to American jazz trumpeter and singer Louis Armstrong
Byron Stripling on trumpet

Pops II
December 13, 2008
"A Christmas Celebration!"
Matinée at 2 p.m.
Evening show at 8 p.m.

Pops III
March 21, 2009
"You and the Night and the Music."
A night on Broadway with Brent Barrett

Performances begin at 8 p.m. in Artemus W. Ham Concert Hall at the University of Nevada, Las Vegas unless otherwise noted. Subscriptions are available by calling 895-ARTS (2787), or by visiting our website. Single tickets go on sale August 6, 2008. Visit www.lvphil.com for more information.

Shuttle bus service to the concerts departs from the Starbright Theatre Parking Lot in Summerlin about 6:20 p.m. the evening of the show. To sign up, call 895-2787
"THE MUSIC OF LED ZEPPELIN: A ROCK SYMPHONY"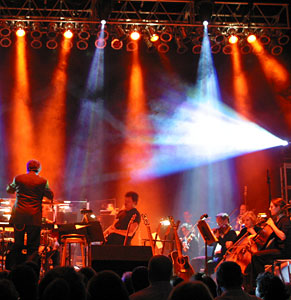 "THE MUSIC OF LED ZEPPELIN: A ROCK SYMPHONY" PERFORMED BY THE LAS VEGAS PHILHARMONIC AT THE THEATRE FOR THE PERFORMING ARTS AT THE PLANET HOLLYWOOD RESORT & CASINO SATURDAY, MARCH 29, 2008
Las Vegas, NV (February 25, 2008) -Bridging the gulf between rock n' roll and classical music, The Las Vegas Philharmonic will perform The Music of Led Zeppelin at the Theatre for the Performing Arts at the Planet Hollywood Resort & Casino on Saturday, March 29 at 8:00pm.
Amplified by a full rock band and accompanied by singer Randy Jackson's screaming vocals, creator Brent Havens guest conducts the ensemble as they capture Led Zeppelin's "sheer blast and power," riff for riff while churning out new musical colors.
"My concept for The Music of Led Zeppelin was to take the music as close to the originals as we could and then add some colors to enhance what Zep had done," says Havens. "The wonderful thing with an orchestra is that you have an entire palette to call upon. The band is reproducing what Led Zeppelin did on the albums, verbatim, and then having an orchestra behind the band gives the music a richness, a whole different feel, a whole different sense of power."
Delivering a note-for-note interpretation, vocalist Randy Jackson (lead singer of the rock band Zebra), shrieks brilliantly, acting as a window between the audience and reworked material. "The music itself is one thing, but Jackson more than captures the spirit of legendary Led Zeppelin singer Robert Plant," says Havens.
Why the music of Led Zeppelin? Havens felt Led Zeppelin's intricate rhythm patterns and unusual progressions contained within straight-forward rock n' roll makes them an ideal choice for scoring.
"I was quite impressed with the complexity of the rhythms," says Havens. "I've asked myself if they actually sat down and said, 'alright we need a three-eight bar here, or we need to go from four-four to seven-eight and back…' I don't think so. I think they just banged it out and it worked and it felt good."
The 2-plus hour concert features 18 Zeppelin tunes, including Stairway to Heaven, Heartbreaker, Black Dog and Immigrant Song.
"On Immigrant Song I have the violins doing that 'Ah-ah-ah part,' up an octave from Jackson, and the French Horns are doing it with him in the same register," says Havens. "Then we have the brass kickin' in the back, doing the accents. It rips."
The symphonic rock hybrid has met with approval on both sides of the podium. "When we first came on stage, the audience gave us polite, almost classical applause," says Havens. "Then we hit the first note and they realized it was a rock show." Classical musicians also enjoy the change of pace; "In one concert, during Stairway to Heaven, the entire string section pulled out Bic lighters!" laughs Havens.
TICKETS ON-SALE NOW
Tickets priced at $65.00, $45.00 and $25.00 and a limited number of VIP tickets (includes a complementary CD) priced at $100.00 are available at www.livenation.com, www.planethollywood.com, Planet Hollywood Box Office, and at all Ticketmaster outlets.
To charge by phone call Ticketmaster at(702) 474-4000. All dates, acts, and ticket prices are subject to change without notice. All tickets are subject to applicable taxes, and service and handling charges. For more show information, check out
www.livenation.com
.