Entertainment is tops at these places:
145 Easton Town Center, Columbus, OH 43219,
Phone: 614-471-5653

445 N High St
Columbus, OH 43215
Phone: 614-561-7435
Age range and standings, successful and usually unmarried 20- to 30-something professionals. Downstairs has a huge dance floor under the neon lights of the martini sign. Very good for mixing drinks.
The Coliseum
6252 Busch Blvd
Columbus, OH 43229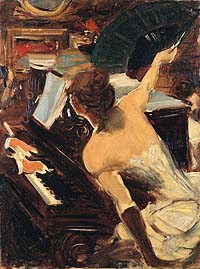 The Cabaret Singer / Giovanni Boldini
It's Brothers Bar and Grill
477 Park Street
Columbus, OH 43215
Phone: 614-221-0673
A real social College - University watering hole with all the trimmings, and safety. Student leaders get their social licenses ( " if you get my drip " ) from here too!

40 E Long St
Columbus, OH 43215
Phone: 614-621-0416
Up beat upper - class place for socials and business arrangements, and to take a real beautiful date to after a night on the theatre along with an excellent dinner at a cozy restaurant. Lovers it is very good! A real righteous place.