International and National Arts Network, RMC

Eurosphere ~ Arts, Artists, Galleries, and Studios:


Home | African Seat of Nations ~ Arts, Artist, Galeries, and Studios | AsianSphere ~ Arts, Artisits, Galleries, and Studios: | Middle East, Arts, Artists, and Art Galleries | Australian ~ Arts, Artists, Galleries and Studios: | Eurosphere ~ Arts, Artists, Galleries, and Studios: | North American ~ Arts, Artists, Galleries and Studios | South American ~ Arts, Artists, Galleries and Studios: | African Seat of Nations ~ Art Shows, Famous Artists | AsianSphere ~ Art Shows and Famous Artists: | Australian ~ Art Shows and Famous Artisits | EuroSphere ~ Art Shows, and Famous Artists | North American ~ Art Shows and Famous Artists: | South American ~ Art Shows and Famous Artists | African Seat of Nations ~ Art News | AsianSphere ~ Art News | Australian ~ Art News | Links Page: | Art related links: | The International Arts: Support Guide and Networks Directory | Arts: Blogs, Bloggers, and Journals Directory | International Students / Scholars Directory: | Students / Scholars Clubs Directory: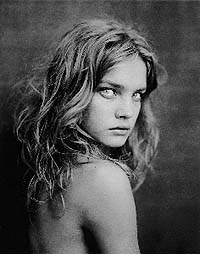 Paolo Roversi, Natalia, Paris, 2002. © Paolo Roversi
Present Exhibit:
Face of Fashion
FACE OF FASHION
Mert Alas & Marcus Piggott, Corinne Day, Steven Klein, Paolo Roversi and Mario Sorrenti; Wolfson Gallery; Sponsored by Gap and Taylor Wessing.
Face of Fashion is a major exhibition focusing on the portraits of five outstanding fashion photographers from Europe and America: Mert Alas & Marcus Piggott, Corinne Day, Steven Klein, Paolo Roversi and Mario Sorrenti. It is the first exhibition to focus on the concept of the portrait within the diversity of current fashion photography.
Fashion photography dominates our visual culture. Never has it been so prevalent, pervasive and wide-ranging, incorporating as subjects not only the most popular professional models but also our greatest actors, musicians, filmmakers and designers. With the boundaries between advertising, editorial and fine art now blurred, the world's most famous fashion photographers are shaping our ideas of beauty, sexuality and fame
Artist in search of a Home Base:

Ukrainian Artist Dimitri Danish One-man Show At Vinings Gallery

Only U.S. appearance this year for Ukrainian born artist Dimitri Danish in one man show at Vinings Gallery -Special two-day event Saturday, May 2 from 6 to 9 p.m. And Sunday, May 3rd from 1 to 4 p.m.

SMYRNA, GEORGIA--Vinings Gallery is pleased to welcome museum artist Dimitri Danish to Atlanta for his only 2009 U.S. appearance. Danish appears at Vinings Gallery for the first time since 2007 and will kick off his one-man show at receptions on Saturday evening May 2 and Sunday May 3. The artist has created a unique body of work exclusively for this show and collectors will enjoy the chance to meet Danish and view these original works.

Born in Kharkiv, Ukraine, Danish took up his first drawing pencil before he was able to walk or talk. And as he matured, painting became as natural for him as breathing, eating and sleeping.

With an education focused on art throughout his formative years, Danish developed a love for cityscapes and painting the places that he read about in books, heard about on the radio or in a conversation. The artist became especially intrigued with painting doors and windows because symbolically they let him view and enter unknown worlds.

After college, Danish's career as a fine artist took off and he began to exhibit in Ukraine, Russia and other Eastern European countries. In 2000, the Kharkiv State Museum of Fine Art conducted a solo exhibition of his work called "Cities and Mountains" and purchased three of his paintings for their permanent collection. The New Jersey Museum of Modern Art also has three of Danish's works. And, in 2003, the Ukrainian government purchased a Danish painting and presented it to the outgoing ambassador of the United States to Ukraine.

The Vinings Gallery show kicks off the month-long exhibition and will showcase the most exclusive body of Danish's original paintings available for sale anywhere in the world. The show will run through May 22.

Gary Handler, Vinings Gallery owner has been anticipating this show for quite some time. "It will be wonderful to welcome Dimitri back to the Gallery," he said. "When he was here in 2007, the show was magical and full of original gems, including beautiful, small paintings that really spoke to our collectors. Dimitri making his only U.S. appearance here with us at Vinings Gallery means that existing collectors from around the Southeast and those new to his work are in for a very, very special treat!"


Vinings Gallery is a truly unique gallery offering an extraordinary mix of nationally acclaimed and emerging artists. They present these artists with passion and enthusiasm that is contagious. Walk through the gallery doors or visit online and discover why Vinings Gallery has struck a chord with collectors throughout Atlanta, the Southeast and across the country. Explore Vinings Gallery at www.viningsgallery.com .

For more information about the Dimitri Danish show, please call the Gallery at 404-794-7762. The Gallery is located at 4686 South Atlanta Road, Suite F, in Smyrna, Georgia.

High Resolution images of Dimitri Danish's artwork are available to accompany publication.

Media Contact:
Elizabeth McDonald
McDonald Media
Telephone: 404-822-3788
Email: lizzie@mcdonald-media.com
To bring you the best experience when traveling to Rome, Italy, I decided to interview Stefania Troiani the creative owner and founder at

http://www.romeshoppinguide.com

United States of America (Press Release) January 26, 2009 --

Tell us about yourself - where are you from and what do you do?

Ciao my name is Stefania Troiani I am from Rome, Italy and I am the creative owner and founder at Rome Shopping Guide.com a custom tour planning business specialized in providing tailor made luxury services such as private guided shopping and wine tours in in Rome, Tuscany and Umbria. These VIP services cater to individuals or small group and to a wide range of companies in the travel and tourism fields included but not limited to tour operators, tourist boards, hotels and

cruise lines

.I handle every type of request for supplementary services from tour guides to transfers: private

limo

and bus rentals, guided tours anywhere in Italy, cooking lessons, wedding ceremonies and special private visits.

I am extremely passionate, not only about showing you Rome's treasures, but in providing the level of service usually tourists expect from the larger companies. I combine my strengths to bring you the best of both in terms of service and guidance/advice. My goal is to show you the place I love, the REAL ROMA. Then if you are planning to

visit Rome

please, visit me at http://www.romeshoppinguide.com

When do you recommend travelers visit your location?

Rome is a fascinating place to visit at any time because most attractions are open all year round; Rome is actually an open air museum!

source:

FPR

If you are interested in a

trip to Rome

then the best times to visit Rome is during spring and fall seasons,is sunny but not too hot and touring around would be fun and exciting.

But if do not like crowds then I suggest off season when prices are those of the low season and there are no lines at museums.

What are several very special places or things to do which locals love but most travelers don't know about?

Rome is the most beautiful place in the world, rich of history and art but also of amusement and fun!If you like Italian culture then you can enjoy the best that the Eternal City has to offer for next to nothing.

Rome tourist attractions

around the Trevi Fountain and Spanish Steps area are simply marvelous and free of charge!

The city houses countless churches, monuments and galleries that can be visit for free such as the Vatican Museums that on the last Sunday of every month, from 8:30 a.m. to 2 p.m. (the last admission is at 12:30 p.m.) are free of charge. For info +39 06 69 88 33 33. Also national museums and other major galleries have deals that change constantly, and if you feel you have exhausted those, then step just outside the city center and take a relaxing walk in one of the several park scattered around town. Just to name a few I would recommend the gardens at Villa Ada and at Villa Borghese.

Long list for Long list for The Art Fund Prize for museums and galleries announced for museums and galleries announced.

27/2/09

10 museums across the nation compete for the UK's biggest arts prize of £100,000
Wedgwood Museum celebrating historic company joins ten-strong long list
A Northern Ireland museum reaches long list for the first time
Two Scottish giants go head to head
Scarborough museum celebrates 'the father of English geology'


A new museum telling the story of Wedgwood – the 250-year-old world-renowned pottery company – has been long-listed for the UK's largest single arts prize, The Art Fund Prize for museums and galleries. The news is announced just weeks after the company Waterford Wedgwood went into administration against the backdrop of the world-wide credit crunch.

The Wedgwood Museum in Stoke-on-Trent has reached the ten-strong long list alongside a Scarborough museum which brings to life the history of English geology in an inspiring seaside setting, and a County Antrim arts centre and museum exploring the history of the area up to its famously troubled modern times. For the first time England, Northern Ireland, Scotland and Wales are represented on the long list, selected following deliberations by a high profile judging panel including acclaimed film-maker David Puttnam and artist Grayson Perry.

The ten long-listed museums and galleries are:


The Braid: Arts Centre and Mid-Antrim Museum, Ballymena, Co Antrim
Named after the river that runs through Ballymena and as a tribute to the local flax linen industry, this £20 million new museum, arts centre and exhibition space explores the history of the region from prehistoric to its more troubled recent history.
The Centre of New Enlightenment at Kelvingrove Art Gallery and Museum, Glasgow
Kelvingrove reaches the long list for the second time for its new programme of educational events and experiences for young people, which draws inspiration from the 18th century Scottish Enlightenment and uses the museum's collections to inspire young people to discover how to become the heroes of tomorrow.
Outside the Box at the Museum of Reading
The Museum of Reading is entrusting the local community with its precious objects, as more than 20,000 objects from the museum's collections have been packed into more than 1,500 boxes, loaned out to hundreds of schools, colleges, care homes, libraries, and local community groups.
Scotland: A Changing Nation at National Museums Scotland, Edinburgh
Scotland: A Changing Nation explores five major themes affecting life in Scotland from the First World War to the present day, including war, industry, daily life, social change and immigration, and celebrates Scottish achievement.
National Trust Museum of Childhood, Derbyshire
This newly rejuvenated museum offers the rare chance for kids big and small to get hands on with its collections in this museum set in the 19th century servants' wing of 17th century Sudbury Hall.
Orleans House Gallery, Twickenham
Orleans House Gallery has been transformed from a group of decaying buildings into a thriving and inspirational community hub for heritage, arts and learning, with regularly-changing contemporary and historical exhibitions alongside its permanent collection.
Rotunda – The William Smith Museum of Geology, Scarborough
One of the oldest surviving purpose-built museums in the country, the beautiful 1800s Rotunda building houses exhibits which have rekindled Scarborough's pride and passion for one of her most significant adoptive sons, William Smith, 'the father of English geology'.
Ruthin Craft Centre: The Centre for the Applied Arts, Denbighshire
As the most important gallery for contemporary craft in Wales, the stunning new building designed by award-winning architects Sergison Bates hosts contemporary crafts from major collections around the world and at home.
The Sackler Centre for arts education at the V&A, London
One of the most innovative museum education spaces in the world, the Centre helps visitors develop practical creative skills inspired by the museum's many exhibits and practices, including digital media, advertising, fashion and home decoration.
Wedgwood Museum, Stoke-on-Trent
Housed on the historic manufacturing site of Josiah Wedgwood and Sons Limited the Wedgwood Museum celebrates the art of ceramics at its finest, with visitors able to see not just pots but a range of manuscripts, documentation, correspondence, factory equipment, original models and fine art. The Wedgwood Museum is operationally and financially independent from the Waterford Wedgwood company, so is unaffected by the firm's demise.

These ten museums and galleries compete for the £100,000 prize, which is awarded to the museum or gallery whose project demonstrates the most originality, imagination and excellence.

This is the second year that The Art Fund, the UK's leading independent art charity has sponsored this major arts prize, which is open to all accredited museums and galleries in the UK. The Art Fund Prize for museums and galleries recognises and stimulates originality and excellence in museums and galleries and aims to increase public appreciation and enjoyment of all they have to offer.

David Puttnam, Chair of the Judges comments: "This year's long list will take the judges across the length and breadth of the country and there really is something for everyone, with museums and galleries exploring subjects as diverse as ceramics, crafts, geology and toys. These projects have all made an impact in their local areas during their first year of opening, and we are sure that the high standards they have set will make our judging a difficult task."

David Barrie, Director of The Art Fund, comments: "All the long listed museums and galleries have shown exceptional creativity and ambition. They have made excellent use of new technology, architecture and innovative displays to enable their visitors to get the most out of their collections and exhibitions. The Art Fund is proud to support this, the largest arts prize in the UK."

Following judges' visits, four museums and galleries will be short-listed and announced in April. The winner of the £100,000 prize will be announced on Thursday 18 June at the Royal Institute of British Architects in London.

The 2009 judging panel comprises:

David Puttnam (chair) film-maker and educationalist
Robert Crawford, outgoing Director General of the Imperial War Museum
Sally Osman, communications consultant and former Director of Communications at the BBC
Grayson Perry, Turner Prize-winning artist
Mathematician and author Marcus du Sautoy
Maggie Semple, Chief Executive of The Experience Corps
Journalist and broadcaster Mary Ann Sieghart

Last year's winner was The Lightbox museum and gallery in Woking. Previous winners include Pallant House Gallery in Chichester (2007), Brunel's ss Great Britain in Bristol (2006), Big Pit: National Mining Museum of Wales, Blaenafon (2005), The Scottish Gallery of Modern Art for Landform - part sculpture, part garden, part land-art - by Charles Jencks (2004), and the National Centre for Citizenship and the Law at the Galleries of Justice in Nottingham (2003).

For more information please visit: www.artfundprize.org.uk

Ends

Euro-Quest Commercial Night Life ( NightLife ), RMC Websites:

Official launch of the European Year of Creativity and Innovation 2009

The Czech Presidency of the EU and European Commission will officially launch the European Year of Creativity and Innovation 2009

The European Year will be launched in Prague in a conference attended by a host of personalities including high representatives of EU member states, Commissioners, members of the Czech government and several Ambassadors of the Year. The Conference will run in parallel to the meeting between the Commission and the Czech Government. After that, during a ceremony in the National Theatre in Prague, the launch of the Year will be announced by the Czech Prime Minister, Mirek TopolŠnek, and Commission President Jose Manuel Barroso, simultaneously with the inauguration of the Czech Presidency.

The Prague conference will be preceded in the morning of the 7th of January by a round table attended by a dozen Ambassadors of the Year and presided by Esko Aho, Executive Vice President Nokia, and Former Prime Minister of Finland. These eminent personalities will adopt a set of recommendations for EU governments and institutions which will be presented by Mr Aho at the afternoon conference. German inventor Mr. Karlheinz Brandenburg, French researcher Dominique Langevin, Hungarian creator Erno Rubik or Romanian film director Radu Mihaileanu will be among the participants, together with top businessmen, artists and designers.

The European Year of Innovation and Creativity (EYCI) aims to raise awareness of the importance of creativity and innovation as key competences for personal, social and economic development. It has acquired a special meaning in the context of the current economic slowdown - the message it should convey is that Europe should not react to the crisis by reducing investment into skills and innovation. By emphasizing these priorities, the EU aims at shaping Europe's future in a global competition by fostering the creative and innovative potential in all of us. The EU will offer a framework for raising awareness of the issues concerned and promoting a policy debate on how to increase Europe's creative and innovative potential. As for previous European Years, measures will include promotion campaigns, events and initiatives at European, national, regional and local levels.

On the eve of the campaign launch, the European Commissioner for Education, Training, Culture and Youth, JŠn Figel', said: "This European Year is a horizontal, cross-cutting exercise involving many areas. Apart from education and culture, it involves enterprise, regional and research policies, social and employment policies, energy, transport, environment and the information society. I am pleased at the response shown already by all EU institutions and the Member States, and they are all planning to make the best use of the Year. It is also a sign of the importance of creativity and innovative capacity in Europe that many companies, associations and organisations have expressed the wish to become partners of the Year."

A website, http://www.create2009.europa.eu, has been set up, which is dedicated to the Year, with news, events and activities updated regularly throughout the year, policy and publicity messages, reports of the outcomes of activities and separate pages for partners of the Year. A special section will be dedicated to activities held in Member States, and another to the two-dozen Ambassadors of the Year.

The planned activities include a large-scale conference on the contribution of the EU's funding programmes to creativity and innovation, which will be held in Brussels at the beginning of March. Also in Brussels, a series of six public debates will be held on key topics relating to Creativity and Innovation from February onwards, to provide a platform for reflection and exchange of ideas which can contribute to policy discussion on Creativity and Innovation. They will cover such issues as cultural diversity, public sector, education, knowledge society, sustainable development and the creative arts and industries.

For more information:




Modeling Registry.

International InterCultural Communications via content Night Life ( NightLife ), RMC networking sites.

Buy one bunch of daisies - get the second bunch at half price. For best results, give them plenty of sun, frequent watering, and regular fertilization.