New Visions

March 1 - 4

Performance dates and times:
Thursday, March 1 at 7pm
Friday, March 2 at 8pm
Saturday, March 3 at 2 8pm
Sunday, March 4 at 2 & 7pm


An evening of ballet that will have you on the edge of your seat: a breathtaking world premiere by Resident Choreographer Jorma Elo; Christopher Wheeldon's award-winning Polyphonia; and the return of Val Caniparoli's exhilarating Sonata for Two Pianos and Percussion.

Polyphonia (Company Premiere)
Music: Gyorgy Ligeti
Choreography: Christopher Wheeldon
Costumes: Holly Hynes
Lighting: Mark Stanley

World Premiere
Music: Wolfgang Amadeus Mozart
Choreography: Jorma Elo
Costumes: Charles Heightchew
Lighting: Mark Stanley

Sonata for Two Pianos and Percussion
Music: Béla Bartók
Choreography: Val Caniparoli
Costumes: Robert Glay De La Rose
Lighting: Mark Stanley

Works by three of today's best choreographers showcase the richness of contemporary ballet. Christopher Wheeldon's

Polyphonia

, choreographed for New York City Ballet (NYCB) in 2001, is an homage to George Balanchine, an abstract, neoclassical leotard ballet danced by four couples and performed to piano music by Gyorgy Ligeti (1923-2006). In The New York Times, Anna Kisselgoff concluded her review of

Polyphonia

with the words, "A major ballet." She acknowledged its debt to Balanchine but added, "The piece is rich and spare at the same time, familiar in tone but inventively unpredictable." Wheeldon's distinctive artistry is unmistakable: in the novel partnering, in the sculptural quality and unforgettable shapes of some of the movement, in the way he uses the upper body – in basically every aspect of the piece.

Ligeti's best-known works are the compositions included in the soundtracks of 2001: A Space Odyssey, The Shining, and Eyes Wide Shut, three films by director Stanley Kubrick. His oeuvre embraces everything from folk music to pieces so avant-garde that Wheeldon believes they're "unchoreographable." For Polyphonia, Wheeldon selected 10 works from among Ligeti's folk tunes, Musica Ricercata, and two books of etudes for piano. Wheeldon was so invigorated by the composer's music that he has since created two more ballets to Ligeti: Continuum for San Francisco Ballet, and Morphoses for NYCB, where he is the company's first-ever resident choreographer. Wheeldon was formerly principal guest choreographer for Boston Ballet, where his work included Corybantic Ecstasies, The Four Seasons and Firebird.

On the heels of his world premiere Carmen, Resident Choreographer Jorma Elo creates another much-anticipated new work for Boston Ballet. In just a few short years, Elo has become one of the most sought-after choreographers in this country and abroad. His Plan to B brought audiences to their feet when Boston Ballet presented the world premiere in 2004. Since then he has created ballets for New York City Ballet and Aspen Santa Fe Ballet, and recently received a commission from American Ballet Theatre for a piece to premiere in October. "It is a pleasure to have Jorma returning with another new ballet," said Mikko Nissinen. "He has such a rich imagination and is so very creative; I can't wait to see what he does next."

Val Caniparoli's Sonata for Two Pianos and Percussion was one of the major hits of Boston Ballet's 2003-2004 season. In the Patriot Ledger, Iris Fanger called the ballet "a fast-paced, abstract work brimming with energy and lots of steps to keep up with the driving tempos of Bartok's music." Performed by 12 dancers to Béla Bartok's score, the ballet, like the music, is intense, rhythmic and complex, challenging the dancers with fast, intricate footwork. Sonata was the first work created by Caniparoli for Boston Ballet; he had another big success that same season when the Company danced his full-length Lady of the Camellias. His signature work, Lambarena, joined Boston Ballet's repertory during the 2005-2006 season. Caniparoli's ballets have been performed by more than 35 companies throughout the world, and he is currently resident choreographer for Tulsa Ballet. All Contents © 2006 Boston Ballet Credits | Privacy Policy. Tickets:
www.telecharge.com 1-800-447-7400

.

Vibrant Dance, Unconventional Instruments and Tribal African Customs from Peru

Today, approximately one-third of the South America's population is of African descent, yet there are few opportunities for Afro-Latinos to explore their African heritage. To promote the rich and vast history of Afro-Latinos, Afro-Peruvian theater group Teatro del Mileniopresents Atlanta audiences their hit dance theatre production Karibu. Combining vibrant theater, dance and music through unconventional art forms and instruments, Karibu defies the marginalization of cross-cultural history among Afro-Latinos by celebrating the power and value of their culture. All performances of Karibu are performed at 7 Stages Theatre from March 8-11, 2007; performances are conducted in Spanish with English supertitles.

"Teatro del Milenio understands that people throughout the African Diaspora can trace back their roots through the history of music and dance," says Luis Sandoval, director of Karibu. "We are pleased that 7 Stages Theatre can provide us the opportunity to share the depth of the rich and unique history of African people in Latin America to emphasize the unique role they bring to all the cultures of the world."

Info:

All performances of Karibu, take place on the Mainstage at 7 Stages Theatre, located at 1105 Euclid Avenue in Atlanta's Little 5 Points. Tickets are on sale now and may be purchased by calling 404-523-7647 or by visiting www.7stages.org.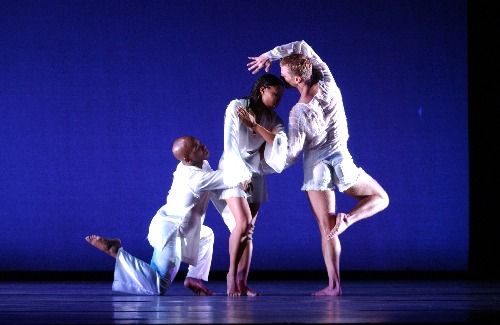 MARK MORRIS'S WORK IN HIGH DEMAND FROM BALLET COMPANIES
By: MMDG
Praise for Morris's ballet choreography…"…Drink to Me Only With Thine Eyes, a work that reinvented the classical idiom and sealed Morris' reputation as a master choreographer." (Minneapolis Star-Tribune)

A prolific choreographer for his own company, Mark Morris continues to receive recognition for his work in opera and ballet. Following his Metropolitan Opera debut earlier this year and his work being featured in the season repertory of the world's best ballet companies – American Ballet Theater, Dutch National Ballet, Pacific Northwest Ballet, and San Francisco Ballet (SFB) – this season resumes bringing Morris's work to ballet audiences all over.

As part of SFB's 75th Anniversary Season, Morris has been commissioned to collaborate with the composer John Adams on a new work. The work will premiere in San Francisco in April 2008. SFB will also perform Morris's acclaimed Drink to Me Only With Thine Eyes (January 31, 2008) as part of their home season.

This season, The Washington Ballet will premiere their first Morris work – Drink to Me Only With Thine Eyes - (January 30, 2008) in Washington, D.C.
Ballet British Columbia will premiere A Garden (February 14, 2008) in Vancouver, British Columbia.

Enter subhead content here