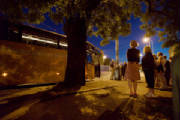 Berlin
Copenhagen
France:
Paris:
Michael Adams
One of London's leading late night music venues is Bar Rumba. It is currently one of London's most popular clubs and has an amazing atmosphere
Paris, France [ .fr ]:
15 Place Vendôme, Paris, France
Paris, FR
Rome
Cross Links
Prague Night Life ( NightLife ), RMC ~ Night Life Entertainment and Enjoyment:[
Web Page
]
Solid Uncertainty
Tel: 00420 224 933 086
Its a pretty cool club, with a large bar area, plenty of seating, and a fair size dancefloor. Prices are fairly reasonable and I didn't notice any foreigners here.
Aloha Wave Lounge
is a stylish café, restaurant and cocktail
lounge
with an element of Hawaiian Tiki style. Aloha Wave Lounge is available for private and corporate events/parties. Informations on info@alohapraha.
cz
or
Tel
.
420 724 055 704
Baracnicka rychta
Located at Trzoste 23. the restaurant / club has very traditional Czech cuisine.
According to Press Releases: The owner says
," Dance or listen to swing, jazz, ethno music. Have a seat and taste one of six kinds of excellent Czech beer."
Tel. 420 257 532 461
Bugsy's
~ ~ Located at Parizska 10 ~ ~
According to their web site they state
: "
We are able to ensure a complete bar catering service and to provide you with the best and the most professional bartenders, who prepare cocktails of a high quality that you are used in our bar. We are also able to ensure educational programs, seminars, and degustation from any part of the gastronomical field "
According to research they are known world wide
.
Tel. 420 224 810 287
Double Trouble
~~ Located at Melantrichova 17 ~~
Accocrding to expats dot CZ
" No one is going to be shocked by people dancing on tables or seats, or even on the bar. Actually, this is the norm here. DJs playing house, trance and eurodisco until Saturday
.
Additional search reveals
:
The bar is full of interesting mixed drinks and has a good atmosphere while you are meeting friendly pople. They know they are a tourist attraction, but, then again, watch out too!
Tel. 420 221 632 414
.