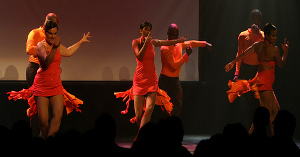 The dance school Le Ballet Théâtral de Montréal, founded and directed by Monique Goyer, is please to announce that it will take part in the fund raising event "DANSEZ POUR LA VIE" (Dance for Life) hosted by the Quebec division of the Canadian Hemophile Society, this event will be on the 14 november, 2009.
With the purpose of collecting funds to help people afflicted by a hereditary blood coagulation problem or the diseases caused by contaminated blood transfusion, Le Ballet Theatral de Montreal is proud to present 3 performances of different styles danced by its teachers.
À la barre : a short modern ballet dance by Monique Goyer executed by the inseparable duo of Valérie Lacroix and Mélanie Ermel.
Tango de Malaga : a flamingo choreography of the superb Hedi Arquilliere danced in solo by Mélanie Ermel accompanied by the singer Lucie Trudelle and the guitar player Christ Cucuzza.
And, it is an honor for Le Ballet Théâtral de Montréal to welcome BUTTERFLY : a brand new tap dance creation composed and performed by our guest artist of international renown : Tavis Knights and by his beautiful partner from Le Ballet Théâtral de Montréal, Tanya Rivard.
We are proud to figure among the team of dancers who will brighten up this cause during the presentation offered at l'Espace Dell'Arte, 40, Jean-Talon East street, on the 14th November, on the stroke of 20h00.
For more details, please visit www.dansezpourlavie.ca
Le Ballet Théâtral de Montréal www.ecolededanse.btmtl.com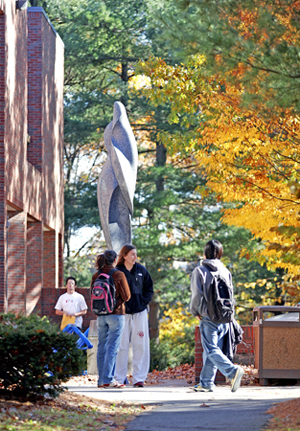 Dear Editor: Usdan Center will once again host its Summer Dance Intensive, directed by Maurice Brandon Curry, former Director of the Joffrey Ballet School (and internationally acclaimed choreographer). Usdan's dance program includes ballet and classical styles, at all levels of training. Thank you. - Reva Cooper
Contact: Reva Cooper, Director of Public Information:
revacooper@earthlink.net
USDAN CENTER PRESENTS OPEN HOUSES FOR SUMMER 2010:
Sundays, November 8, December 6, January 24
Wednesdays, February 17, March 31, April 18

New Programs For 2010 To Be Announced Shortly

Usdan Center For the Creative and Performing Arts, one of America's largest not-for-profit summer arts camps, named a "Best Of for 2009" by Long Island Press newspaper, TimeOutNY/Kids and NY Metro Parent, is now preparing for its 43rd season. The renowned Center will present six Open Houses for its 2010 season. The dates are: Sundays November 8, December 6 and January 24; and Wednesdays February 17, March 31 and April 18. The times for each date are 11 AM to 2 PM at Usdan Center's magnificent 200-acre woodland campus, 185 Colonial Springs Drive in Wheatley Heights (Huntington), Long Island.
Open houses will give prospective students and their families a chance to tour the Center and obtain information and answers on Usdan's more than 40 programs from the staff. . Families who cannot attend an Open House may make an appointment to visit on another date from Monday to Friday. Please call (631) 643-7900, or email
info@usdan.com
, or visit
www.usdan.com
Usdan Center will shortly announce additional new programs for the coming season. Its successful
Fashion Design
course, introduced for 2009, will continue next summer.
Usdan Center has introduced the arts to more than 50,000 Tri-State Area children since its founding in 1968. The Center is open to all young people from age 6 to 18. Usdan's program features more than 40 seven-week programs in music, dance, theater, visual arts, writing, nature & ecology, and chess. No audition is needed for most programs – rather, admission is based on an expression of interest in the arts. Each summer, 1,600 students are transported to the Center in air-conditioned buses each day. One-third of Usdan's students attend on scholarship. Although the mission of the Center is for every child to establish a relationship with the arts, the unique stimulation of the Center has caused many to go on to arts careers. Alumni include singers Jane Monheit and Mariah Carey, actresses Natalie Portman and Lisa Gay Hamilton, and members of major music, theater, and dance ensembles such as the Boston Pops and the New York City Ballet.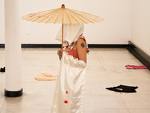 Dancemopolitan: 15th Anniversary Season of the DanceNOW [NYC] Festival
Thursday, October 22 at 7:30 PM Friday, October 23 at 8:00 PM Saturday, October 24 at 9:30 PM
October 9, 2009 – For more information, photos, press tickets or artist contact information for the above upcoming shows, please read the full line up information below and send me an email. Also we've just added the following new shows: Courage in Concert Viewing Party hosted by Gavin Creel and Will Swenson (10/19), Del Mccoury Band (11/19), Jeffery and Cole Casserole: LIVE! (11/20), Danielle Evin (11/25), Tina Brown / Under The Elephant / Katia (11/25), Judy Gold in Jewdy, Jewdy, Jewdy!!! (11/27-11/29), We Are The Song: After The Storm 2! (12/7), Click any of the links to go to the show's page on JOESPUB.COM.
Dancemopolitan: 15th Anniversary Season of the DanceNOW [NYC] Festival
Thursday, October 22 at 7:30 PM; Friday, October 23 at 8:00 PM; Saturday, October 24 at 9:30 PM
The DanceNOW [NYC] Festival, celebrating its 15th anniversary season in 2009-10 with an expanded season of performances at three different downtown venues that honor its past, present and future, wraps up its celebration with a new Dancemopolitan series, LIVE at Joe's Pub, October 22–24. These three LIVE showcases bring festival artists to Joe's Pub's intimate stage, where DanceNOW [NYC] inaugurated its successful Dancemopolitan in 2003 as part of The Festival season. The October festival series is hosted by The Dang-It Bobby's, the Brooklyn-based duo of singer songwriter Kris Bauman and guitarist Luca Benedetti, and features dance works that incorporate live music and/or text by guest artists - Julian Barnett, Christal Brown/INSPIRIT [23&24], Dixie Fun Dance Theatre [22&23], dnoDances [22&24], Zach Morris with Donna Ahmadi, Negative 30 Dance [23&24], Portables/Claire Porter, Christina Reaves [22&23], Tami Stronach Dance and Beat Boxer Adam Sutta and Mary Suk [22&24].
First held in the fall of 1995, the DanceNOW [NYC] Festival aims to present a broad spectrum of the NYC dance scene, offering audiences opportunities to re-connect with artists they know, while also sharing in the spirit of artistic discovery that has exemplified DanceNOW [NYC] since its inception.
DanceNOW [NYC] DanceNOW [NYC] is supported, in part, with funds from the Barbara Bell Cumming Foundation, Jerome Robbins Foundation, Edith C. Blum Foundation, Harkness Foundation for Dance, NYC Department of Cultural Affairs, Mertz Gilmore Foundation, and New York State Council on the Arts, a state agency. $20 in advance / $25 at the door
TICKETS
Online at joespub.com, Phone 212-967-7555,
In Person At the Public Theater Box Office (1 PM to 6 PM), or at the Joe's Pub Box Office from (6 PM to 10 PM) both located at 425 Lafayette Street, NYC
For table reservations please call 212-539-8778. Purchase of tickets does NOT guarantee a table reservation; you must call to reserve seats. Seating, as well as standing-room, is available only on a first-come, first-served basis for all shows without a dinner reservation. Two drink or $12 food minimum per person is standard.
Alex Knowlton at Joe's Pub 425 Lafayette Street New York, NY 10003
aknowlton@publictheater.org / 212-539-8563 www.joespub.com
Auditions for Dance Bands and Disc Jockeys
See unfolding details on this blog.
Story Shorts Below.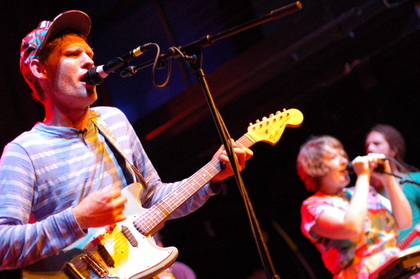 Belief in yourself is the key requirement in producing your own sound and then taking the next step in forming your own band.
What this audition process allows you to try out both your new sound, or traditional dance music and have your band have a place in which it can likewise reherse - but with a very active groups of dancers interacting with you at the sametime.

Here on on the Ithaca Commons is the focus in which you can explore, while giving your fellow bands members the additional public opennings to get known necessary for their musical development. It all goes on every Tuesdays - when the weather permits - from 7:00 to 10:00 PM and the time in which it starts will be posted soon!
You do not have to be from around the Ithaca area. All you need is willingness.
or call 607 - 279 - 9945